Crown Asia Residences by Crownasia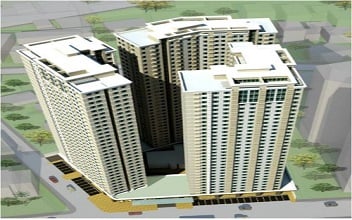 Project Type : Condominium
Listing Type : Preselling
Units : Condo
Price: ₱ 1,000,000 & Up
Address : Barangay Wack Wack
Location : Mandaluyong , Metro Manila PH Crown Asia Residences Crownasia Crown Asia Residences Crown Asia Residences Crownasia Crown Asia Residences Mandaluyong
www.crownasiaresidenceswackwack.com
See how history unfolds at your very eyes as the Crown Asia Residences Wack Wack is unveiled where the Philippine former president Jose P. Laurel's Mansion once stood. Here, you can have the lush and rich heritage of the Laurel Mansion (also known as Villa Paciencia) as the old structure is preserved and integrated with the grand lobby connecting the development's towers. The Crown Asia Residences is made up of 3 high-rise residential towers, with 29 stories each building on a mixed-use development.

This amazing condo for sale in Mandaluyong City is a welcome treat for those who are seeking utmost convenience in urban living. The site sits on a 6,386sqm of prime land where the ground floor has the grand lobby, commercial spaces, and a drop off bay along Shaw Blvd. The second level has the grandiose amenity area while basement 1&2 have parking spaces with a provision of car lift at basement 2. The 3rd level up to the 29th floor are where the stylish residential units are located offering Studio Units, 1-BR Units, and 2-BR units with the panoramic views of the Wack Wack Golf and Country Club and the skyline of Makati, Ortigas, Pasig, Manila, Quezon City, and Mandaluyong City.

The Crown Asia Residences Wack Wack is situated along Shaw Blvd. corner JP Laurel St., Brgy. Wack Wack, Mandaluyong City, Metro Manila. This address is also home to one of the world's finest golf courses, the Wack Wack Golf and Country Club and considered as the shopping mall capital of the Philippines. When you choose to settle here, you will be treated to stress less commute to work or do business because the site is conveniently located near the Ortigas Center. It's also just a short distance away from the Makati and Taguig's (BGC) central business districts, lessening the stress of a long commute.

Crown Asia Residences is also a convenient transit point in traveling to and from places as the Shaw Blvd. MRT Station is just a minute walk away and easily accessible to other modes of transport. While this location-friendly and adorable enclave truly work well with families, it is also perfect for business people and young professionals.

The Crown Asia Residences promises a sublime and serene living despite its location in the heartbeat of Mandaluyong City and the core of the metropolis. The site is also in close proximity from Metro Manila's prominent schools, like the Poveda, Xavier University, Don Bosco Technical College, University of Asia and the Pacific, St. Paul Pasig, De La Salle University Greenhills, and Lourdes School of Mandaluyong, as well as shopping centers, such as the SM Megamall, The Podium, Starmall, Greenhills Shopping Center, Tiendesitas, and the Robinsons Galleria, among others. Medical institutions also littered the site's vicinity, with the likes of Cardinal Santos Medical Center, VRP Medical Center, St. Luke's Medical Center BGC, and the Medical City Pasig, to name just a few. If you are wondering what to choose as your starting residential unit to nourish and rear a family, you can pick the Studio units, 1-BR units, and 2-BR units with sizes that are so spacious, every homeowner will certainly cherish more breathing spaces.

Crown Asia, Crown Asia Residences, Condo for Sale in Barangay Wack Wack, Mandaluyong City, Philippines. For price list, model house, floor plans, payment terms, CHAT LIVE with an agent 24x7. If you're looking to find Crown Asia, Crown Asia Residences for Sale, then check here first. We have full details of Crown Asia, Crown Asia Residences for Sale updated regularly. Everything you need to know about Crown Asia, Crown Asia Residences Condo buying process, broken down into stages. Includes selecting a unit, choosing a payment plan and buying your dream home at the right price.
Available Units